Arlinda Boland
Last week Arlinda Boland became the newest member of the Maryknoll Deaf Development Programme staff.  Justin Smith, presently the manager of the Deaf Community Development Project, will be leaving Cambodia in April, and Arlinda will replace him in that role.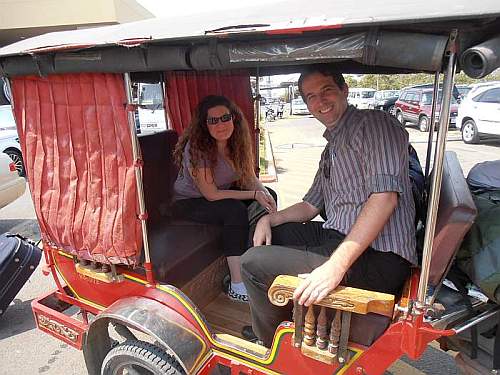 Arlinda is from the United States but came to us from participating in a deaf conference in England.  Justin Smith and Charlie Dittmeier met her at the airport, and within minutes she was getting her first tuk-tuk ride and her first experience of the Cambodian weather.
---
Most foreigners who come to Cambodia have no friends or acquaintances here but Arlinda has at least two friends in Phnom Penh and one of them invited her to stay with her until Arlinda gets here own place.  After arriving at the apartment, Justin and Arlinda talked about what Arlinda would need as she establishes herself in Cambodia.
---
After a first night's rest in Cambodia, Arlinda was at the Deaf Development Programme the next day and starting to learn the place and the people and what she will be doing.  Arlinda was recruited because of her personal skills but also for her experience in the deaf world.  Most deaf people in Cambodia have a very limited understanding of what is happening with deaf people outside of Cambodia.