Graduation Day
The Deaf Development Programme has been running a sign language course since November.  The classes ended in May and today there was a small graduation ceremony at the DDP office.  The Sign Language Project is one of six projects at DDP.  In its first phase, it concentrated on identifying and recording Cambodian signs, eventually publishing a set of sign language workbooks for the classes.  Now in phase two, the project is focused on teaching Cambodian Sign Language.  We hope to recruit and train more sign language teachers later this year.
At the beginning of the ceremony, Charlie Dittmeier presented certificates of achievement to Vandang (2R) and Samnang (R), two of the DDP staff, while Sreythom (L), one of the teachers, looked on.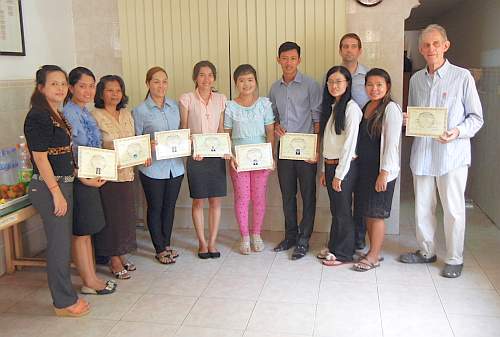 There were eight students who completed this course.  They all posed together at the end with their teachers and DDP staff.